Mini
Mini vehicles are a great place to get started in your RC journey. They are compact enough to get you used to being an RC enthusiast but pack a punch get you whipping around turns at decent speeds.
Standard
Standard vehicles will get your foot in the door to creating a one of a kind vehicle. These cars and trucks come in multiple brands that are sure to satisfy even the most pick RC enthusiast in town.
Large
You're totally a pro here. Large scale vehicles are the top of the line, ready to show off vehicles that are sure to impress all your friends and family. They take the RC Lifestyle to a whole new level.
LMT 4WD Solid Axle Monster Truck Roller
Overview
Completely designed from the ground up, the Losi® LMT 4WD Solid Axle Monster Truck Roller is the first of its kind on the market combining all-out performance with incredible scale detail. Starting with the chassis, a twin vertical plate is designed to provide all the performance adjustments needed to tune the truck for any situation. Whether you are a scale driver, a basher or a racer, the chassis is designed to accommodate multiple shock setups keeping you tracking straight, no matter the terrain. New multi-piece axle housings surround the 1/8th scale drivetrain. Additionally, the easy access center transmission comes stock with a center differential and allows for quick changes with the optional spool for that wheel standing action. For the true Monster truck experience, the axles also allow for optional 4-wheel steering and a new adjustable servo saver to keep the wheels pointed in the right direction. A composite flip top cage adds scale realism and protection, as well as functionality so you can easily access your battery and electronics. Choose your preferred peripherals such as transmitter, battery, charger, motor and more for a complete custom setup. The LMT Monster Truck Roller has just thrown down the gauntlet on solid axle monster trucks.
Features
Solid Axle Monster Truck Roller
Twin Vertical Plate Chassis
Composite Flip Top Cage
Multi Piece Scale Axle Housing
Long Travel Coil Over Shocks
Center Differential with Cush Drive
1/8th Scale Diffs
Short Course Style Wheel with replaceable center hub
Scale Monster Truck Tire
Adjustable Servo Saver
Scale Details
Driver Insert
Preset motor plate produces easy, precise gear mesh
Elastomer battery mounting for a versatile battery hold down system
Video Overview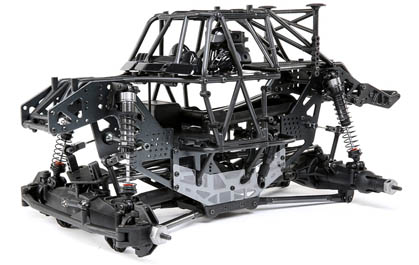 Solid Axle Monster Truck Roller
Feel like you are behind the wheel of a real Monster Truck. Losi performance combined with scale realism to produce the ultimate Solid Axle RC Monster Truck. This is a REAL Monster!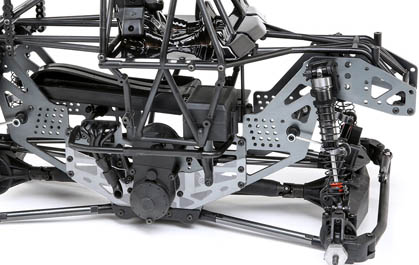 Twin Vertical Plate Chassis
Twin Vertical Plate Aluminum Chassis not only provides extreme strength and durability, it also allows for multiple suspension configurations so you can dial your truck into any situation.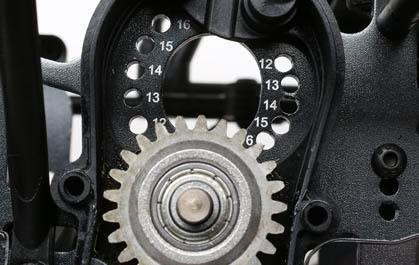 Preset Motor Spacing
No more trying to find the perfect gear mesh. The LMT comes with a preset motor plate that will ensure the perfect mesh every time.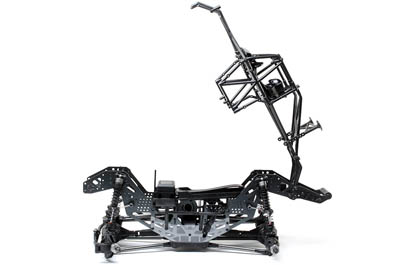 Composite Flip Top Cage
Provides scale detail as well as easy access to the batteries and electronics.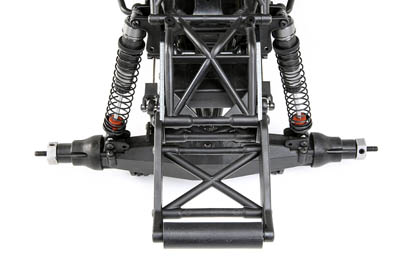 2 Position Wheelie Bar
The included wheelie bar utilizes a large roller supported by ball bearings on each side for smooth wheelie action. The bar can be placed in one of two fixed positions for the optimal wheelie angle.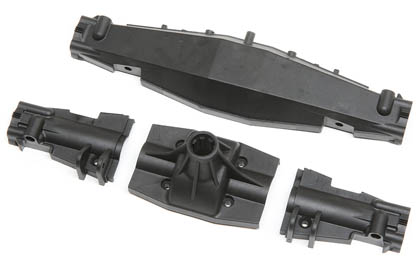 Multi Piece Scale Axle Housing
Multi Piece Axle design provides the scale look, as well as provide easy access for gear changes and maintenance. These axle housing surrounds the 1/8th scale differentials that provide extreme durability.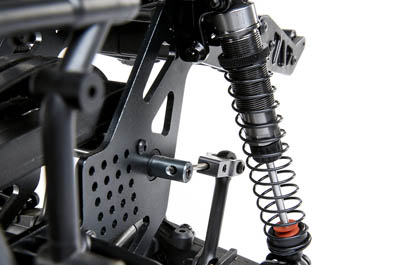 Long Travel Coil Over Shocks
Long Travel Coil Over shocks with rubber bump stops to provide superior dampening. These shocks and springs have been tuned to mount directly to the axle housings. So not only do they perform at the highest level, they have a very scale look.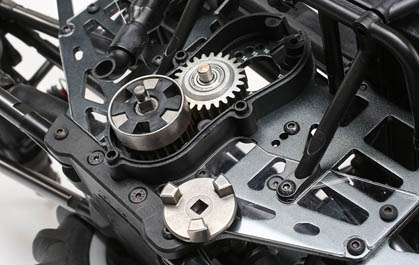 Center Differential with Cush Drive
Fluid filled center differential allows for performance tuning with the added protection of our torque dampening Cush Drive. The Cush Drive is a rubber elastomer system that absorbs the high impact forces from the motor and big landings to minimize the shock on the drivetrain, providing a very durable and reliable drivetrain.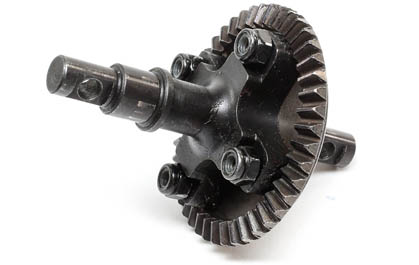 Optional Center Differential Spool
We offer an optional center differential spool for that full time wild 4wd freestyle action. The center transmission has an easy access center plate that allows for quick access to the diff or spool so you can make quick changes to best suit your driving needs. *Shown with ring gear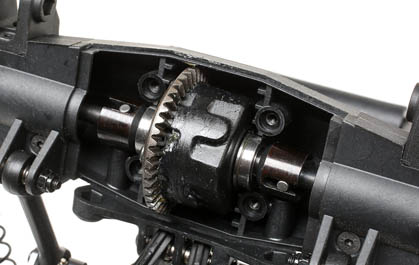 1/8th Scale Differentials
Fluid filled differentials allow multiple tuning options for optimal performance on any surface. The stock diff oils are 100k in the Front and Rear, with 500k in the center. The center differential allows you to tune the power bleed from front to rear for optimal performance in any condition.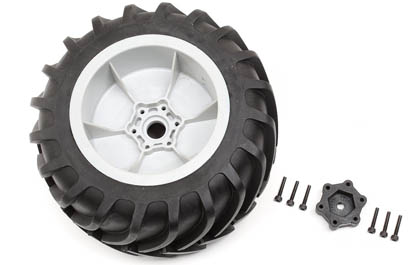 Short Course Style Wheel with Replaceable Center Hub
Short course style wheels with 17mm wheel hex reduce the rotating mass of the tire while providing additional clearance for all of the steering components. The replaceable center hub in the wheel will allow for optional offsets, as well as increased durability. There is an optional 12mm center hub so you can run these tires on multiple trucks.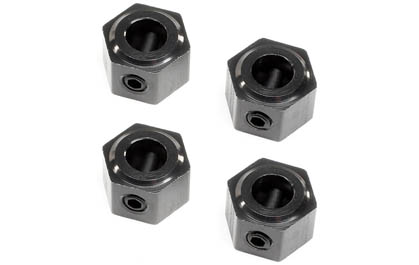 Optional 12mm Aluminum Wheel Hex
We offer an optional 12mm aluminum wheel hex for the LMT so you can use aftermarket wheels and tires from such popular brands as Proline.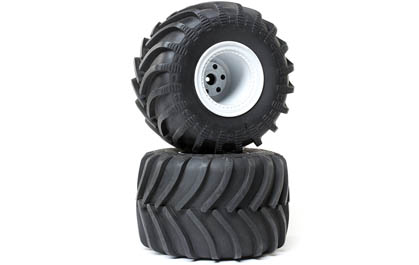 Scale Monster Truck Tire
Modeled after the real-life Monster truck tires.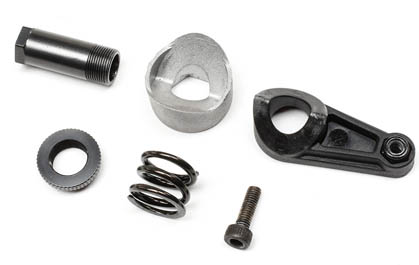 Adjustable Servo Saver
An adjustable servo mounted servo saver allows you to adjust the tension on the servo saver for maximum steering and protection to the servo.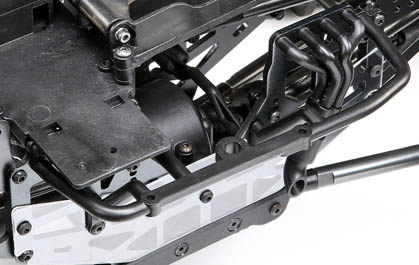 Scale Details
Scale details like exhaust headers and LED headlights help to complete the scale look so you can feel like you are driving the real thing.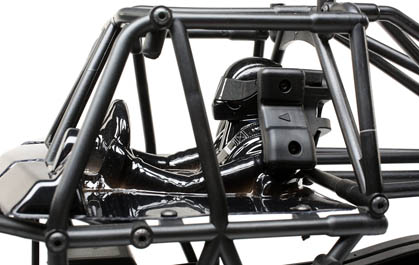 Driver Insert
Scale detail to finish off the true monster truck look, with the driver sitting in the center of the truck!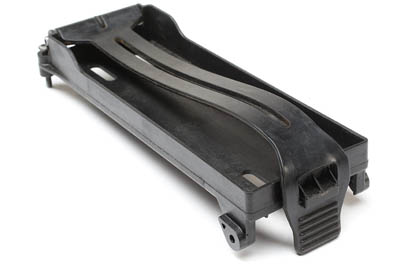 Elastomer Battery Mounting
The LMT comes equipped with Losi's Elastomer Battery Mounting system for a versatile battery hold down system.
PRODUCT SPECS
Shock Type
Aluminum body oil-filled coil-over
Differential
Bevel gear, sealed
Tire Tread
BKT Monster truck
Vehicle Type
Monster Truck
Approximate Assembly Time
1 - 3 hours
Final Drive Ratio
18.76:1
Wheelbase
13.5" (342.9mm)
Chassis
6061-T6 Aluminum Twin Vertical Plates
Drive Type
Forward/Brake/Reverse
Product Height
11.8" (300 mm)
Internal Gear Ratio
10.16:1
Product Length
22" (559 mm)
Suspension
Solid Axle 4-link
Product Width
15.4" (391 mm)